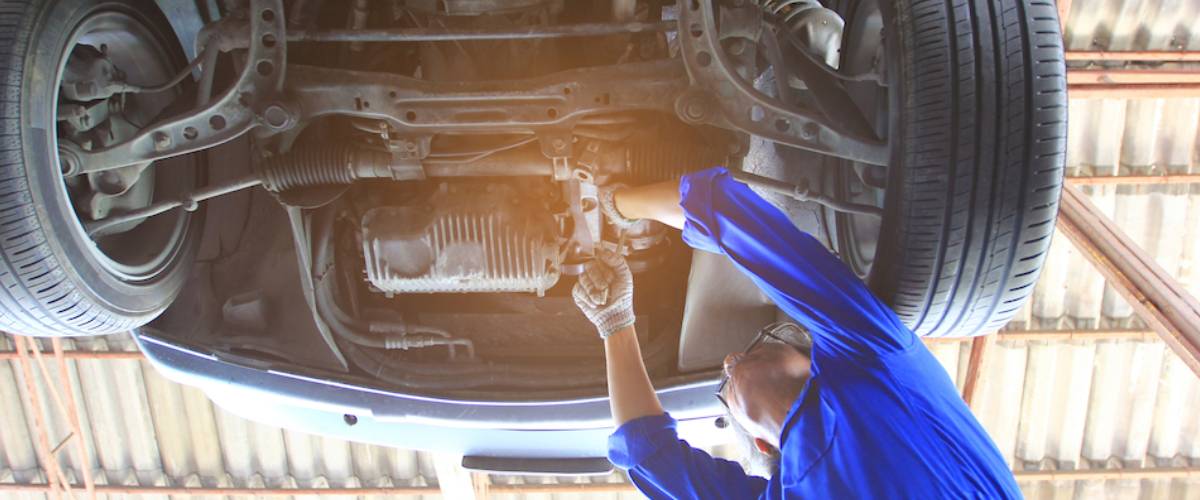 Your car keeps you safe every day. You can protect it by using a proper car repair service and by ensuring it's routinely maintained at our auto repair shop in Nicholasville.
The auto mechanics and service technicians at our mechanic shop are both factory-trained and Mopar® certified. That means they have the most up-to-date knowledge and know the ins and outs of your vehicle.
We service all CDJR (Chrysler, Dodge, Jeep®, & RAM) vehicles. So whether you have a vintage truck, a brand-new minivan, or anything else our auto repair shop can get it done. We even offer Fiat vehicle service!
From simple oil changes to full part repairs, we have the correct supplies for your specific vehicle. We invite you to schedule a service with us today to experience our efficiency, expertise, and top-of-the-line facility for yourself.
The Difference Between Us & the Shop on the Corner
The quick-repair shop down the road may lure you in with promises of excellent prices, but that's where the benefits stop. Most mechanics at quick-repair shops don't have the necessary certifications or the proper-OEM parts to give you the highest quality and most efficient service possible.
They'll likely use an aftermarket product to fix an issue with your vehicle. While that may be less expensive, an aftermarket part doesn't carry the same guarantees or standards as an authentic Mopar® part does.
They also aren't made specifically for your vehicle, which means it's likely not an exact fit and will therefore cause damage to your car. So you may have paid a better price, but you'll be back in the shop before you know it to get yet another repair. We see CDJR owners come to us with improperly installed parts all the time.
Our auto repair shop is loaded with a wide range of parts that are designed specifically for your vehicle. It also offers guarantees and warranties that will give you peace of mind and protect you against unwelcome charges if something does go wrong.
Plus, we constantly offer service coupons and specials to give our customers great prices. And if your CDJR or Fiat vehicle is still under warranty you won't pay a penny. We are here to get the job done properly and efficiently - we wouldn't do business any other way. Here are some of the services we provide:
Oil Service
Even if your CDJR vehicle is running perfectly, oil change service is still required every 5,000 to 15,000 miles (depending on your model and year). Trust our technicians to do an oil change service with the proper oil and lubrication to keep your vehicle running beautifully.
Whether you need synthetic or conventional oil, we have got it here in our auto repair shop. Not sure what you need? No problem! That's what we are here for. Our technicians will tell you the best oil for your vehicle and let you know when you need to bring it back as well.
We won't just change your oil. We will advise you on things like potential leaks, ancillary components, engine seals, and wear & tear. We are a full-service shop, and we won't send your car home until we know it's in tip-top shape.
Brakes Service & Repair
It doesn't take a car guru to know that your brakes are an integral part of your vehicle. If you are experiencing difficulty coming to a full stop, squeaking when braking, or any other issues feel free to bring your vehicle to our auto repair shop.
Our technicians will check your brakes for any issues and let you know if you need our brake repair service or replacement brakes. If you do need new brake pads or caliper bolts, we will make sure to properly install the right parts to keep you safe on the road.
Transmission Service
Transmission repair is a very serious task and needs to be performed properly. There are so many parts involved in modern-day transmission. It is imperative that you go to a highly-trained technician if you're having transmission issues.
The transmission communicates with virtually every part of your vehicle, and it is essential that it's correctly working to keep your vehicle safe. We will perform the proper diagnostics and replace or repair when necessary.
Tire Service
Whether you're driving near Lexington or anywhere else, having properly inflated tires with working tread is vital for your safety. Our auto repair shop can fix your tire pressure, perform a tire rotation, fix alignment issues, and do much more.
If your tires are overly worn down due to weather or repeated use, we have a wide range of tires available for purchase, from weather-specific tires to performance tires. Our technicians will give you the transparency you deserve. Even if only a simple rotation or pressure fix is required, we will never make you buy anything unnecessary.
Parts (& Everything Else)
Need parts? Whether it's a new battery, new brake pads, or new accessories for your awesome CDJR vehicle we have it all. And when you come to our auto repair shop, you can trust that anything you buy will be installed correctly the first time and in an efficient manner.
Feel free to call us to see if we have the part(s) you need. If for some reason we don't have what you need in stock we will happily order it in - and it may arrive within the same day!
An Auto Repair Shop Built Around You
At Montgomery CDJR we are all about excellent customer service. We know how important your time is to you, and we treat it with the respect it deserves. Please take advantage of our Express Lane Service (no appointment needed) or schedule ahead of time.
With our Express Lane Service you'll likely be out of here before you even finish the coffee you just poured yourself (around 30 minutes or less). When you service your car with us, you'll also get the advantage of speaking to our service advisors.
They will tell you your vehicle's recommended maintenance schedule, alert you to any recalls, and keep you up to date with your vehicle's health. Take your car to an auto repair shop you can trust. We are here to serve you. Let us know how we can help.