According to AAA, a leading roadside-assistance provider in the United States, overheating due to an engine cooling system failure is one of the top three common causes of car breakdowns, with radiator failures proving to be one of the chief culprits driving this statistic. 
Combustion and friction generate immense heat levels inside your car's engine. Without a way to effectively release these high temperatures, your engine would overheat in minutes. Your radiator is responsible for channeling this heat away from the engine by circulating a coolant throughout the system and expelling the excess heat into the outside air. If you notice your engine temperature gauge slowly rising toward the red zone, it may be time to get your cooling system or radiator checked at Montgomery Chrysler Dodge Jeep Ram (CDJR) for repairs.
Don't be that car stuck on the side of the road with steam pouring out from under the hood. Instead, get your radiator checked regularly to help ensure your engine is running at peak efficiency. Whether you need a simple coolant top-off or a more involved cooling system repair, our certified technicians are here to help. We use only the highest-quality replacement parts and fluids, so you can rest assured your engine is receiving the care it needs. So what are you waiting for? Schedule a service appointment with us and keep your car running cool.
Cooling System and Radiator Repair Services Offered at Montgomery CDJR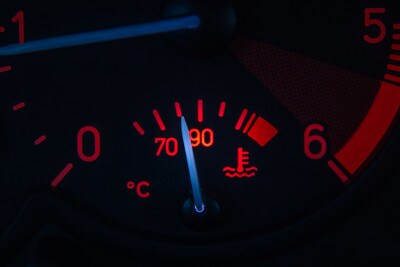 We have the expertise, experience, and state-of-the-art tools to ensure that all cooling system and radiator repair services are handled professionally. So when your car requires repair, you know you can trust the experts at Montgomery CDJR. While radiator repair is the most common cooling system repair, we offer a full range of related services. Here's an overview of some of the other services we provide:
Radiator Flush
A radiator flush, also known as a coolant flush, involves running several liters of water and new coolant through the cooling system. This process gets rid of all the old coolant along with any contaminants that may have built up over time. In addition, our specially formulated radiator flush is designed to remove rust and scale from the cooling system, giving it a fresh start.
Thermostat Replacement
Your thermostat is a gauge that regulates the coolant flow based on temperature. If it's not working correctly, your engine may be overheating without you even realizing it. We can replace faulty thermostats using quality parts from leading brands.
Coolant Level Check
Regularly checking the coolant level in your car's cooling system ensures your engine is running at the correct temperature. We can check and top off the coolant levels when you come in for an oil change.
Water Pump Replacement
The water pump is a vital component of your car's cooling system. It circulates the coolant through the engine and radiator to keep it running at optimum temperatures. Our technicians can assess and replace your water pump if necessary.
Pressure Cap Inspection and Replacement
The radiator pressure cap is located on the coolant reservoir. A trained mechanic should check it for cracks at least once a year during one of your regular service appointments. Our technicians can easily replace the pressure cap if they find it to be cracked or damaged.
Antifreeze and Coolant Replacement
Antifreeze is made up of ethylene glycol or propylene glycol, which is then mixed with water to create coolant. This mixture helps keep the engine running at the right temperature. It should be replaced every two years or 30,000 miles. Our specially formulated coolant ensures your car runs as smoothly and efficiently as possible.
Radiator Leak Repair
The radiator is critical to keeping your car's engine cool. Its purpose is to lower the water temperature in your cooling system after it has absorbed heat from your engine. Unfortunately, even minor damage to the radiator can affect its cooling capacity or impair the radiator hose. However, our trained technicians can quickly assess the situation and locate and repair minor leaks.
Cooling Fan Inspection
The cooling fan steadily circulates air around the radiator, dispelling hot engine heat into the atmosphere. However, if your fan stops working or is not operating correctly, it can cause your engine to heat up quickly and lead to costly and potentially irreversible damage. At Montgomery CDJR, we'll inspect your cooling fan to ensure the drive belt or fan belt is working correctly and isn't loose or cracked.


Signs of a Faulty Cooling System or Radiator
While it's important to avoid potential cooling system or radiator issues, many people only recognize the warning signs once they have had a major breakdown. To help motorists prevent this costly mistake, Montgomery CDJR has compiled a list of the most common signs that your cooling system or radiator requires repair:
Sweet, syrupy smell: If you notice an odor similar to maple syrup coming from your engine, it's likely because the coolant is leaking.
Coolant leakage: Small drops of coolant on your garage floor or driveway could indicate a clogged radiator or housing with tiny holes or cracks.
High engine temperature: If your car's temperature gauge is higher than usual, it could be a sign that the radiator isn't pushing the coolant through the system effectively.
Broken or bent fins: Fins are metal plates that extend from either side of the radiator and aid in heat dissipation. A bent or broken fin obstructs the airflow over your radiator, limiting its ability to cool the engine. This ultimately causes coolant and radiator fluid leaks and other serious issues. 
Discolored coolant: If the coolant in your car has turned a rusty brown hue, it may be because rust is building up within the radiator and polluting the coolant. Corrosion can cause catastrophic damage to your car, potentially leading to irreparable engine failure.
Have you noticed any of the above signs? If so, it's best to have your vehicle checked as soon as possible by our experienced technicians at Montgomery CDJR in Nicholasville, Kentucky. We have the knowledge and tools to ensure top-notch repair services for all types of vehicles. Whether you need a simple coolant replacement, fluid flush, or full diagnostics, our team is here to help. And if you're due for a vehicle upgrade, we also have an extensive inventory of new and used cars. Feel free to contact us with any questions or to schedule your next service appointment.
Close-up of temperature gauge on car dashboard by Ivan Radic is licensed with CC BY 2.0