Schedule an Appointment Today!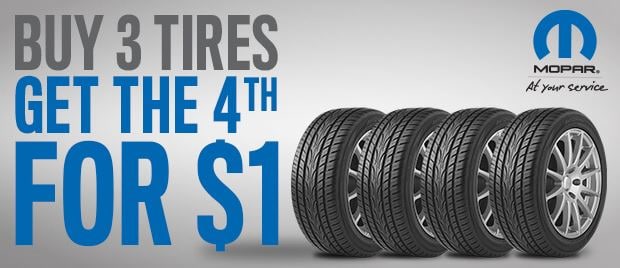 Our Nicholasville parts center is your one-stop shop for all the auto parts you'll need to perform maintenance or repairs on your car. Here at Montgomery CDJR, we sell original equipment manufacturer (OEM) parts to ensure that you enjoy high-quality performance and durability installing them. Don't hesitate to contact us today to learn more about what we've got on offer or for advice on any of your parts-related questions.
OEM Parts and Accessories in Nicholasville
Car Tires by EveryCarListed P licensed with CC BY 2.0
Our OEM parts are designed specifically for your Chrysler, Dodge, Jeep, or Ram vehicle, giving them an edge over aftermarket parts made by a third party for a broader range of vehicles. By contrast, OEM parts are made to exact specifications to ensure a perfect fit and higher performance.
Our dealership offers a range of parts required for routine maintenance. You can purchase replacement brake pads for your vehicle, whether you're looking for standard pads or high-performance ones for sports brakes. We also offer conventional and synthetic engine oils suitable for the full range of trucks, cars, and SUVs in our showroom so that you can change the oil regularly.
If you need a new set of tires, we stock a great selection from many of the top brand names. Our parts experts will be happy to advise you on the best tires to suit your vehicle and your lifestyle. Perhaps you're searching for all-terrain tires from your Wrangler to cope with some serious off-roading. Alternatively, you may want to fit out your Challenger with the best sports tires to gain some extra acceleration.
Our parts center offers exciting accessories to give your ride a tune-up. You may be looking for functional upgrades, like all-weather mats for your cabin or an organizer for your cargo area. We've also got a range of stylish add-ons to create a unique look for your crossover or truck. For example, you could add some rugged exterior styling elements or a sporty touch to the cabin with some extra-supportive front seats.
Order Parts Online
You don't have to travel to our dealership to place your parts order. Instead, just fill out our online order form with the details of the parts you require, and one of our team members will take care of the rest. You can collect the parts when you come in for your next service appointment, or we can send them to you if you intend to carry out your auto maintenance yourself.
We generally have all the parts you'll need in our well-stocked parts department. However, if you need to order something we don't have in stock currently, you can rely on us for a quick turnaround. We have close relationships with Chrysler, Dodge, Jeep, and Ram, as well as their preferred suppliers, allowing us to fulfill orders promptly.
If you're unsure about the correct parts to order, feel free to reach out to one of our parts experts. We're well-positioned to help you out since we handle numerous orders daily for Jeep, Dodge, Ram, and Chrysler vehicles. 
Parts for Maintenance and Auto Repairs
Our parts department works closely with the technicians in our service center to supply them with what they require to conduct routine maintenance and more extensive auto repairs. We provide engine oil, brake pads, new batteries, and fluids so our service team can get your vehicle back on the road as soon as possible. We also ensure more specialized components for your engine or transmission are on hand in case your Jeep or Ram is in for a more comprehensive repair job.
Our service center technicians work with Chrysler, Dodge, Jeep, and Ram vehicles daily, which gives them a thorough knowledge of how each vehicle works. When you drop by for your next service appointment, the technician helping you will communicate with our parts team to ensure that we provide everything needed to get the job done.
Once your maintenance or repairs are complete, the technician will be happy to take you through a cost breakdown of the work we've carried out. The breakdown will include figures for labor and parts costs so you can see how much you spent in our Kentucky parts department.
Auto Service and Parts Financing
Purchasing auto parts can be expensive, especially if you're paying for a big repair job. Accessorizing your Jeep Cherokee or Ram 1500 to create the perfect look can also require a considerable investment. Luckily, we offer competitive financing options here at Montgomery CDJR to cover your service and parts costs.
To start the process, we'll need to collect some basic information from you in our online application form. Our finance experts can then review your information and let you know how much service and parts financing you can receive. The loan agreement we reach with you can be adjusted to meet your requirements for longer or shorter repayment timeframes. We also offer a range of interest rates with our financing deals, including some zero-interest plans.
Once your application is approved, you'll need to make the required down payment using a debit card. Then, you can select your preferred monthly payment option to repay the outstanding balance within the agreed-upon time. After you receive approval for financing, the terms are valid for 28 days. This period gives you plenty of time to shop for the required parts and services.
Now that you know a lot more about our parts department, how to order parts, and the parts financing options, we hope you're ready to make Montgomery CDJR your preferred car lot for all your auto parts requirements. We can handle everything from a simple routine maintenance appointment to a large parts order to performing an extensive repair.
Should you have any questions, you can reach our parts department by phone or online, or you can drop by our Nicholasville dealership to chat with one of our team members in person.
Hours
Monday

7:30am-6:00pm

Tuesday

7:30am-6:00pm

Wednesday

7:30am-6:00pm

Thursday

7:30am-6:00pm

Friday

7:30am-6:00pm

Saturday

8:00am-2:00pm

Sunday

Closed
Make an Inquiry
* Indicates a required field