New JEEP® Wagoneer And Grand Wagoneer Reservation

The legend is back. Sixty years in the making, the new Jeep® Wagoneer salutes the original while offering drivers luxury and technology that is a total evolution from the Jeep® Wagoneer of old. Die-hard enthusiasts and newcomers to the nameplate will absolutely love what the new Jeep® Wagoneer has in store. Now all you have to do is get one.
Fortunately, Montgomery CDJR has opened its order call, and there's a spot on the list reserved just for you. Scroll below to learn more about the details that will leave you salivating after you reserve your new Jeep® Wagoneer. Can't wait? Jump right to our new Jeep® vehicles for sale that are ready to roll.
JEEP® Grand Wagoneer: Stimulating Specs
You can't give this vehicle a name as proud as "Jeep® Grand Wagoneer" and expect anything less than greatness. So, that's what it delivers: greatness beyond your highest expectations. 2022 doesn't know what's coming, but keep reading, and you will.
Not only is its power a sight to behold, but so are its options. The Jeep® Grand Wagoneer is going to come in both hybrid and plug-in hybrid options. So, greatness just got a little greener! We don't have precise towing numbers yet, but we have heard promises that the towing capacity will be unmatched by any other vehicle in the class.
Powertrain options will include nothing but the most robust engines, hearty acceleration, and precision handling. We're going to see a 3.0L EcoDiesel, a 3.6L V6 engine, and the potent 5.7L HEMI. We also know that air suspension will be an option, giving you a smoother, more composed ride than ever before.
JEEP® Grand Wagoneer: Awe-Inspiring Appointments
The Jeep® Grand Wagoneer interior and available features will be just as outstanding as what's under the hood powering your every drive. From what we've seen of early designs, the cabin of the Jeep® Grand Wagoneer promises to offer up the most sophisticated and exciting designs in the Jeep® vehicle lineup ever.
We also have a hunch that the Jeep® Grand Wagoneer will include a two-spoke steering wheel with special badging, harkening back to its original 1963 model. A fully-digital gauge cluster, ambient lighting, and a full-pane glass roof are also expected. The concept tells us that we might see the capacity for up to seven passengers, with second-row captain's seats and a third-row bench making it all possible. But we'll have to wait until it gets a little closer to the Jeep® Grand Wagoneer release date to know for sure! However, for the Jeep® Grand Wagoneer price that we're expecting, you can be sure that this vehicle is going to give you way more than your money's worth!
The Jeep® Grand Wagoneer Release: Then & Now
The Wagoneer family of vehicles was born in the early '60s as the brand's way of adding comfort to capability. Imaginative luxury items were introduced like AC, leather seats (with color-matched shag carpeting), and an AM/FM Radio. Some of us have distinct childhood memories riding in the back of these wood-paneled machines. And some of us can now give our kids similar memories near Lexington. The new Jeep® Wagoneer offers cutting edge technology that you just won't see anywhere else. We've put together some answers to your most pressing questions below:
What is a Jeep® Wagoneer?
The Jeep® Wagoneer was born in the early 1960s and was marketed for 30 years as the brands' comfort-focused family SUV. The new Jeep® Wagoneer is scheduled to launch early in 2021.
When is the Jeep® Grand Wagoneer release date?
The new Jeep® Grand Wagoneer will arrive in Q1 of 2021, as 2022 model-year examples. At that time, a completely redesigned Jeep® Grand Cherokee will also appear with up to three rows of seating.
How much will the new Jeep® Wagoneer cost?
The new Jeep® Wagoneer is built to go places and do it in a way that others can't. As such, it's priced competitively to other vehicles in its class. The short wheelbase model will cost around an estimated $60K1, while the long-wheelbase version will be offered at an estimated $65K1.
What will the 2022 Jeep® Grand Wagoneer look like?
It will look like a rolling piece of art! If you've seen the pre-production photographs, most people closest to the source agree that it will resemble the market-ready models as they appear in showrooms this year. Three rows of seating are standard. As are LED lights and a distinctive front grille. The two-spoke steering wheel is a nod to the original, as are the cleverly placed wood accents. This time, you'll find them inside the vehicle! Impressive LCD screens can be found throughout the cabin, and if you choose, you can relax from a near-orbit view of the Earth. We'll let you discover that feature for yourself!
What is the difference between a Wagoneer and a Grand Wagoneer?
The Jeep® Wagoneer is the entry point to the nameplate. That said, it's packed with high-end features and capability that's never-before-seen in its forebearers. The Jeep® Grand Wagoneer will be the model that features more of everything, suited to drivers looking to equate mobility and status.
How much is a Jeep® Grand Wagoneer?
According to the President of FCA, you can find the Jeep® Grand Wagoneer price for an estimated $60K1 and build out a fully dressed Jeep® Grand Wagoneer for an estimated $100K1.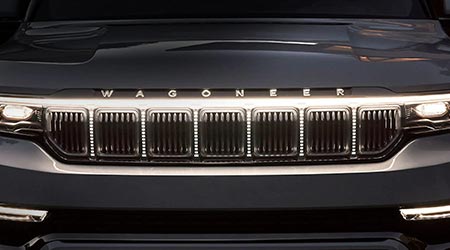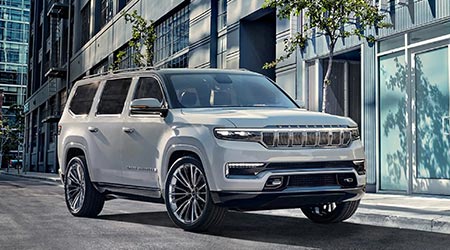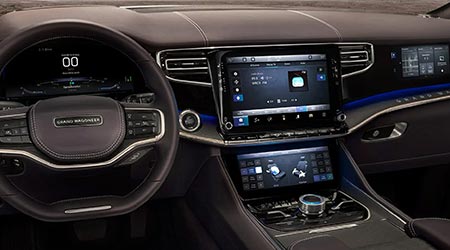 Montgomery CDJR in Nicholasville Is Ready to Make One Yours
It's time to write your best story. Scratch that. It's time to rewrite everything. You'll get to do it with the 2022 Jeep Grand Wagoneer. Make sure that you reserve one now with Montgomery CDJR. Our order call is open and filling fast. The only thing the new Jeep® Wagoneer family of vehicles can't do is wait. Be a part of history, and make sure you are one of the first to drive off in this new take on a Jeep® brand icon. Until that day arrives, you can always enjoy browsing our new Jeep® specials. See you soon! Check in for the Jeep Grand Wagoneer release date!
1MSRP excludes destination, taxes, title and registration fees. Starting at price refers to the base model, optional equipment not included. A more expensive model may be shown. Pricing and offers may change at any time without notification. To get full pricing details, see your dealer.
Make an Inquiry