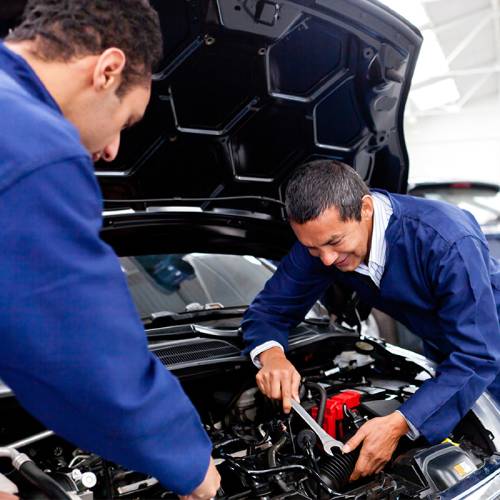 The Advantages of Getting Your Car Maintenance and Auto Repairs Done by the Dealer vs a Third-Party Shop
One of the most vital parts of the car ownership process is taking care of your routine maintenance.  Even if you get dependable performance and capability from a brand like Chrysler, Dodge, Jeep, RAM, or FIAT, you still need to keep up with your car services to ensure that the driving experience you love will continue to thrill you.  Another big piece of this equation is deciding who you want to take care of this vital maintenance.  Do you go to your local mechanic, or some other third-party shop?  Or do you go with the dealer that you purchased or leased your vehicle from?  The experts at Montgomery Chrysler Dodge Jeep RAM FIAT, located at 1010 Elizabeth Street in Nicholasville, KY, will let Lexington, KY drivers know why the dealer has so many advantages when it comes to servicing or repairing your vehicle.
---
The Expert Staff
In your search for an auto shop near Richmond, KY to do your car maintenance and auto repairs, one thing you may want to consider heavily is which place has the most experienced and knowledgeable service technicians.  Whether you purchased or leased your Chrysler, Dodge, Jeep, RAM, or FIAT, the service technicians at our dealership are going to have a huge advantage over any local mechanic or shop.  If you bring your Chrysler, Dodge, Jeep, RAM, or FIAT to your local auto shop, they will not have the benefit of having the skills and experience working on your vehicle that someone in our service center does.  Many of the service technicians we employ are factory-trained and Mopar®-certified.  This means that they have the most up-to-date knowledge of the brand your vehicle comes from.  They know the ins and outs of your car, truck, SUV, or minivan and have all the certifications necessary to make sure that you get the highest quality and most efficient services and repairs possible.  In addition to the experience and expert knowledge, our service center is also fortunate to have a team of service advisors that will have access to all your vehicle's recommended maintenance schedules and any current recalls.  They can let you know when your vehicle's next service is recommended, as well as what it is, and keep you on the path to maintaining its health.  This is not a service your local mechanic in Versailles, KY will be able to offer.
Guaranteed High-Quality Service and Work
Another great perk for Danville, KY customers who choose to service or repair their Chrysler, Dodge, Jeep, RAM, or FIAT at the dealer, instead of their local mechanic, is that the work they do has many guarantees for quality.  For example, if you need an auto repair and go to a local auto shop near Louisville, KY, they will probably use an aftermarket part to fix the issue.  While this may sometimes be less expensive, an aftermarket part or accessory doesn't carry the same guarantees or manufacturing standards as an authentic Mopar® one does.  An aftermarket part is also not made specifically for your car, truck, SUV, or minivan, which means it is not an exact fit.  Over time, this auto part could cause some undue wear and tear to your vehicle.  It also may not last as long and cause you to be back in the shop much sooner than needed.  When you bring your Chrysler, Dodge, Jeep, RAM, or FIAT into the dealer, they will use only authentic Mopar® parts and accessories for your car maintenance and auto repairs.  These parts and accessories are designed specifically for your vehicle and will come with the same guarantees and warranties.  This means that if something goes wrong, you'll have the peace of mind knowing that those safeguards are in place.
In addition, if you have an unexpected mechanical failure during the warranty period of your Chrysler, Dodge, Jeep, RAM, or FIAT vehicle, the dealer will be able to do that work and you will have no obligation to pay.  Our dealership will also be able to utilize any extended service plan you purchased with your vehicle in a very streamlined and easy manner.  Since dealers are held to very high standards by the manufacturer, their goal is to always make sure you are happy with all your service and repair work.
---
Make Your Appointment for a More Expert and Streamlined Service Experience
The service center at Montgomery Chrysler Dodge Jeep RAM FIAT, in Nicholasville, KY, has advantages that your local mechanic just can't match.  Call our dealership and make your service appointment today, or go online and schedule it, so you can take advantage of all the perks of a dealer service experience.