Welcome to the Tire Service portal for Montgomery Chrysler Dodge Jeep Ram (CDJR), your home for all things tire-related in the Nicholasville, Kentucky, area. You probably have questions about your tires because you've found your way here. At Montgomery CDJR, we understand the importance your tires represent. Your tires are the only part of your vehicle in contact with the road. As such, they are responsible for safe operations while steering, accelerating, braking, and providing traction. Your tires must perform under various weather conditions and road surfaces. Therefore, failing tires jeopardizes the safety of you and your family.
Our tire center technicians receive continuous training to identify possible issues with your tires before they can compromise your safety. In addition, our technicians work on all vehicle makes and models. They know the importance of selecting the correct tire for your car, truck, or SUV. So, we had our tire experts put together the following list of tire services you can rely on when you bring your car to us.


Tire Inspections in Nicholasville, KY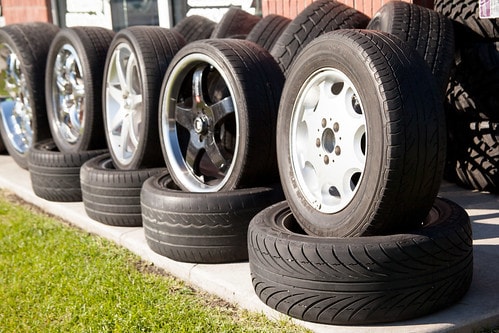 At Montgomery CDJR, we'll inspect your tires whenever you believe you have an issue. We always check your tires when you bring your car in for an oil change or other service. If we spot an issue, we'll alert you and offer a solution, including the cost and time necessary to fix the problem.
We look for signs of normal and uneven wear and low air pressure. These two symptoms often go hand in hand. Low air pressure can cause premature wear. Several issues can cause uneven wear, so it's important to spot symptoms as early as possible. For example, you might have a problem with your steering or suspension system.
We suggest you visually inspect your tires often. It makes sense to check your tires when you stop for fuel. Doing so will help you spot signs of wear sooner. A quick circuit around your car lets you see any worn or uneven treads and identify low air pressure.
Unfortunately, tires lose 1-2 psi every month. This air loss is normal and can't be helped, only monitored and accounted for by adding air. In addition, a foreign object can lodge in your tires and cause a slow leak. You can check the air pressure using a small gauge that fits neatly in your glove box. Low air pressure can lead to an inconvenient flat tire or dangerous blowout.
You don't want to add too much air when inflating your tires. Too much air can also cause problems, raising the tire's middle section, which wears faster than the sides. This raised middle also compromises your tire's ability to provide traction.
Your tires should wear out eventually. However, too much wear results in shallow tread depth. The depth provides the traction your car needs to grip the road. Less tread equals less traction. We use a special gauge to measure tread depth, but you don't need one. You can insert a quarter between the treads with George Washington's head first. If you can't see the top of his head, then you have enough tread. Schedule a service appointment now so we can get your tire situation fixed and get you back on the road.
Tire Rotations
Your tires work under different loads and driving dynamics on the front and rear axles. As a result, your tires wear at different rates. Rotating your tires lets you spread out the wear evenly over time. We recommend you rotate your tires at least every other oil change. Our service center technicians can do this while changing your car's oil without adding considerable time to your visit.
Balancing Tires
One of the least costly services that can save you a lot of money is balancing your tires. It costs between $10 and $25 per tire, depending on the make and model. Your tires need balancing to reduce the natural rotational wobble of your spinning wheels. An unbalanced tire wears faster and unevenly, resulting in replacing your tires much sooner than you usually would.
We recommend you balance your tires any time you put a new tire on or take a tire off the wheel. It takes a particular machine to determine the size of the weight you might need. Our technicians have the expertise to use the equipment and balance your tires correctly.
Wheel Alignments
The manufacturer of your vehicle designed specific measurements for the placement of your wheels within the steering and suspension systems. Properly aligned wheels improve safety, handling, and efficiency and extend the life of your tires. We recommend you get your wheels aligned whenever you remove a tire from the wheel. For example, you could need an alignment if you strike a curb, pothole, or another large object. Any jarring incident can cause misalignment of the wheels, such as a collision.
Over time, the everyday rigors of driving eventually lead to misaligned wheels. Therefore, you should have your alignment checked at least twice a year. Our technicians can do this during your regular service visits.
Signs Your Tires Need Service
The longer you own your car, the better feel you develop for how it performs. If something feels off with your steering, suspension, or braking, don't wait. Bring your car into our service center and have our certified technicians inspect the issue. Common symptoms you might experience when your tires begin to fail include abnormal whining or humming sounds, vibrations, and even thumping noises. You could have a flat spot on your tire caused by emergency braking or an object embedded in the tire causing the noise and vibration.
If your vehicle drifts to either side when driving straight, you might have a problem with your tires. You might need an alignment, have low air pressure in one tire, or you could have something wrong with your steering and suspension system, which can also harm your tires.
As one of your car's most critical safety components, you don't want to ignore your tires. Our tire service technicians have the expertise to quickly identify and fix any tire-related issues or replace them if necessary. We'll find the best option to meet your performance needs and budget. If you are near Nicholasville Kentucky and need new tires or think you have a problem, schedule service online.